A crane operator holds responsibility for safely operating the crane at all times. He is also responsible for supervising the crane operator assistant as well as the roustabouts. Usually the said assistant crane operator is a normal worker who has managed to advance from entry level roustabout and has completed the necessary on-site training course and has proved to be qualified enough to operate the crane. Due to the fact that the work area's size is quite confined the operator must be aware of his surroundings and be on the lookout for any potential danger during a given lift procedure. He is to work with a qualified spotter and rigger in order to ease the task.
An offshore oil rig crane operator's job is simply vital. In order to exemplify that we are going to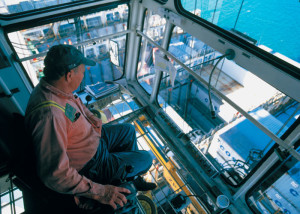 point out the fact that virtually nothing goes on board the offshore rig without the crane operator lifting it, including pipe, personnel, drilling fluid, food, casing and other various supply items. The rig crew will also be lifted up in a crew basket from the work boat below, unless they are appointed to the site via a helicopter.
A crane operator has to take in all dimensional aspects up and down, left and right, as well as the load's size in order to properly prepare for its lifting. Offshore lifting comes as an even more burdensome task due to the rising and falling sea. The barge or workboat, from which the item/s is/are to be lifted, may be rising and falling in a diapason of several feet. The operator is to cope with this in order to not damage the barge, the load, the crane or the rig and crew.
Job Requirements:
The requirements for becoming an offshore crane operator tend to vary by the particular employer. Some require for crane operator candidates to have acquired an offshore crane operator certificate or to hold a helicopter landing officer certificate or restricted cardio operator certificate. Some also strongly require for one to have previous experience in the oil industry field. For example, most of the times the Maersk Drilling corporation chooses to hire crane operators that have experience as assistance crane operators or gas roustabouts. Additionally, the majority of offshore drilling jobs, which includes crane operator, require for workers to be able to carry out several-day or several-week shifts at a time.
A given crane operator might have to follow the general drilling rig crew's schedule, two weeks on and two weeks off, or when regarding oversea rigs, it can be potentially one month or more, again followed by the same off-time.
Crane operators usually have a tendency of receiving nice salaries in comparison to other machine operators, but offshore crane operators go beyond that rule and receive even larger ones:
– A crane operator usually gets a salary of $68,000
– An Assistant Crane Operator usually gets a salary of $61,000