A mudlogger is also known as a logging geologist, a mudlogging geologist and a mudlogging technician.
Mudlogging technicians are responsible for determining hydrocarbon positions with respect do depth, identifying downhole lithology, monitoring natural gas entering the drilling mud stream and drawing well logs for the purposes of oil company geologists.
A muddloger will have to sample and analyze rock cuttings circulated to the surface of the drilling mud. He is to then organize the produced data and form a graphic log that will display the information charted on a wellbore representation. The gathered info is then given to the drilling team. He is also responsible for connecting a number of sensors to the drilling apparatus and installing specialized equipment for monitoring drill activity.
This can turn out to be a physical as well as a mental challenge, especially when one has to do it during drilling activity. A large number of the equipment requires precise calibration or alignment in order to provide accurate readings.
The basic entry requirements for becoming a mudlogger:
Having a degree in a relevant subject (for example: Geology) or equivalent
Having a HND or equivalent in a subject that is relevant to the area of work and a fair share of experience
Knowing about MSDS (Materials Safety Data Sheets) associated procedures due to the fact that you as a mudlogger are going to be dealing with a number of hazardous materials on a daily basis
Anyone operating with geological data is going to have to possess some of the basic computer skills like being able to work with MS Word, MS Powerpoint, MS Excel. Note: the majority of companies have their very own computer applications, for which a mudlogger should be provided with the necessary training course.
Nowadays, employers typically seek out college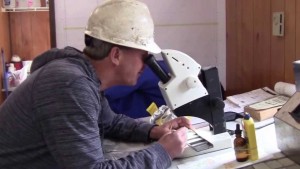 graduates who have acquired Bachelor of Science degrees in the field of geology, geophysics, petroleum engineering or another related science degree. Expectations are for a mudlogger to possess good communication skills, as he is responsible for forwarding the geological drill data that is requested by the drilling client.
A mudlogger usually works (not always, but in most cases) for a third-party logging company.
It is almost a must that you are going to be required to carry out seven-day work weeks and 12-hour shifts. Given that you will be working on an offshore rig, all of your food, travel and accommodation costs are to be covered by your employer. Like any other rig employee, you will have to be drug-free and have proper driving records.
Once a mudlogger is trained, he can earn between $40,0000 and $60,000 annually. If you manage to secure a job position with some of the major oil companies, naturally you are to be given the opportunity of earning more money.