North Korea has struggled to feed its people in recent years, not to mention sustain its energy needs. With reports emerging of the hardline Communist state's potential gas and oil resources, South Korea and other United States allies in the region may face a far more capable military oponent.
Exploration consultant Mike Rego, writing in petroleum geoscience publication GEOExPro, suggested that the secretive Asian state offered "good hydrocarbon potential, both on and offshore…for those who are prepared to take 'first mover advantage' the rewards are there to be had." He pointed to the "relatively low cost and low risk exploration opportunities in a low competition environment, with energy-hungry markets" as compiling to exploration potential.
North Korea is reliant on Russian and Chinese fuel imports, which Rego considered surprising given the evidence for presence of working hydrocarbon systems both on and offshore, and "past exploration efforts dating back to the 1970s".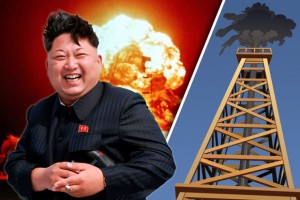 Reportedly, the state has 7 underexplored geological basins, with 3 said to have "proven working petroleum systems," though only 22 wells have been drilled. Mike Rego identified offshore East Sea Basin and West Korea Bay Basin, as well as 5 onshore basins as offering potential. According to him, West Korea Bay Basin had seen the most foreign involvement, mainly Russian and Chinese. At least 10 exploration wells had been drilled in West Sea, with some revealing "good oil shows" along with identification of potential reservoirs.
Rego told NK News that West Sea definitely had oil, and had flowed oil at acceptable rates from at least 2 exploration wells when drilled and tested in the 1980s. East Sea has seen exploration efforts of Russia previously including the drilling of a couple of wells, "both of which encountered encouraging shows of oil and gas."
The author stated that onshore, there had been little exploration, apart from efforts by Korean Oil Exploration Corporation and Mongolia's HBOil JSC. Among 5 main onshore sedimentary basins, the biggest is south of the capital. Unconfirmed reports pointed to a 1-trillion-cubic-foot discovery in 2002. In the U.S., 1 tcf is sufficient to heat 15 million homes for a year.
According to Rego, most had signs of oil and gas and would be relatively cheap to explore, with major issue being logistics. The Zaeryong Basin was the most likely to have oil.