If you are reading this article, may be you have wondered what it is to work on a cruise ship. Hope there is no one who would not want to see exotic lands and meet interesting people from all over the world- together with working in vacation land. Two are the categories of ship workers: staff and crew members.
Crew members
Crew members are the bartenders, waiters, cooks, busboys, housekeeping, maintenance. They enter passenger areas only to work and sleep, eat and live on the crew-only decks. Higher on job scale are the staff members– they are the captain and officers, hotel department, entertainment staff. The members of staff regularly interact with public and they also include theater and computer techs, sports and fitness, videographers, etc.
Staff
Another category are the people who live on cruise ships but do not work for the cruise line. These are hired by outside concessionaires. Two of the most famous gift shop concessionaires are Starboard Cruise Services and Harding Brothers. Steiner Leisure is the company which operates most of the cruise ship spas and hires own shipboard staff. The casinos, medical staff, photography services, entertainment are also often outsourced. Varying access to ship is given to such concession employees- they eat in buffet areas, but can't go to nightclubs, for example.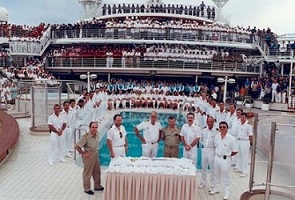 Usually two are the decks where ship workers live – the one is right at water line and its windows look outside but cannot open. The other one is the deck below the water's surface, but it has no windows. The first one – upper crew deck, has crew dining room, Internet room, game room, large-screen TV, fitness center, crew store to buy cheap beer or snacks. Crew area includes also a bar, open every night for drinks and dancing; deck area with deck chairs and a small swimming pool. All of the crew cabins have a shower and a toilet in their bathroom a television with all channels that guests can see and separate crew channel. Beds are often bunk and they are singles. Rooms are being cleaned by room stewards who vacuum and dust. Crew members can also use laundry rooms. Those who live on lower deck, usually share a cabin. On the other hand, staff members get cabin personally and live on upper deck. All the staff and crew members work seven days a week, though hours vary depending on the job. For instance, those who work in the restaurants are in shifts and can have lunch off to catch up on rest or go ashore.
A great number of onboard facilities close when the cruise ship is in port, the casinos or gift shops workers are off duty when the ship is in port calls. Upper crew deck is for staff members to live on, except for the officers and captain, who live behind the bridge- a room where ship is steered. The private staterooms corridor is behind secure door. Staff jobs include privileges called "run of the ship"- they can eat dinner and lunch in public buffet area and are also allowed in all public rooms. Most of them prefer to dance and drink in the nightclub after work. The staff are also allowed in gift shops, although shopping is not their priority. Staff members cannot gamble or sunbathe by passenger pools, though they can get a haircut or massage in the spa and use fitness facilities; spend money in special dining rooms or gift shops; watch movies and live shows.